Traffic management on mine sites is essential in reducing risk to workers and visitors. Effective planning and hazard mitigation can result in significant cost savings in time, maintenance and vehicle wear & tear but more importantly can prevent crashes, save lives and avoid delays due to shutdowns while investigations are conducted.
Road Width Assessment
Road Gradient Analysis
Berm Assessment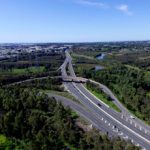 Aerial images taken by drones greatly accelerate and simplify topographic surveys for road management and planning. 
Leveraging drones can dramatically reduce expensive and time-consuming activities required to manage mine sites. 
Contact us today to discuss your requirements.