With over 40,000km of track, Australia has one of the largest railway networks in the world.
Regular maintenance is necessary but current inspection methods of track ballast, rail switches, spikes, points, guard rails etc. are costly and can be dangerous or difficult to execute in remote areas.
Use of Remotely Piloted Aircraft Systems (RPAS) can save time and resources in pre and post-construction activities, keeping Australia's rail network safe and maintained. We can cover vast areas quickly to produce extremely detailed and accurate data which is valuable (and vital) for engineers, surveyors, maintenance teams and project managers to assist with safety, compliance and planning activities.
How it works:
Regular maintenance and inspections are necessary to keep Australia's rail network moving, but this often requires crews to be within the rail corridor to perform visual inspections. A range
of safety protocols have been introduced to minimise risks, but it can involve costly track possession or occupation to slowly inspect sections, often with limited acccessibility.
Using state-of-the-art Remotely Piloted Aircraft Systems (RPAS), we are able to:
Cover large areas or long linear flight paths in a short time
Minimise risk to maintenance crews by removing the need to physically access tracks, hazardous areas and remote environments
Conduct complex inspections of rail components to assist with design and maintenance planning
Store your data securely for future comparisons and analysis
Benefits:
Minimal disruption to rail movement and removes the need to physically access the tracks, making it safer

Faster and more cost -effective 

data capture compared to conventional methods
Assists with maintenance planning and reduces the expense of possessions and line blocks
Easy identification of critical deterioration and maintenance requirements across the whole network
Quickly prepare status reports of an ongoing project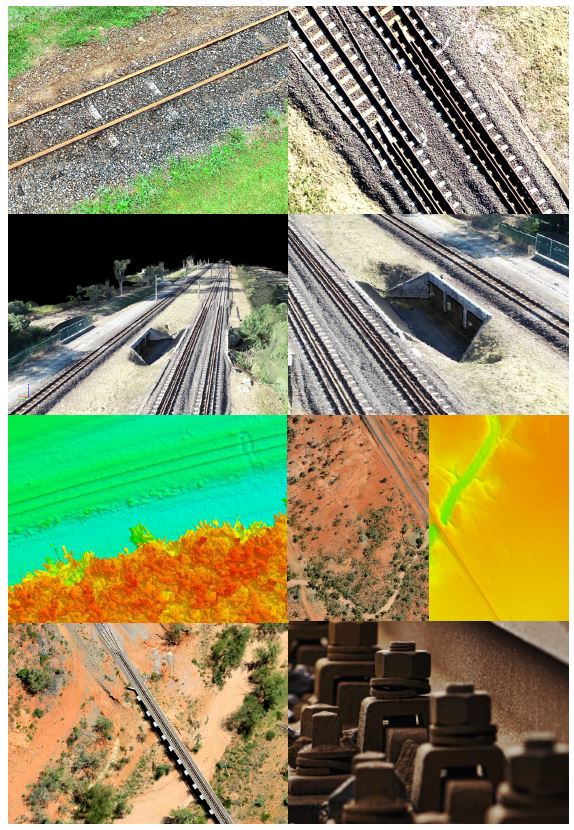 Powerful Insights:
Detailed high resolution imagery for your asset inventories and full data storage for future comparison and analysis

3D digital models and other tools for construction and preventive/corrective maintenance

Analyse and automatically 

detect anomalies – vegetation encroachment, issues with machinery or human activity
Monitor conditions over vast/ remote areas and identify potential hazards before they become incidents or accidents